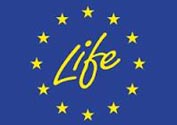 KerryLIFE is a new project worth over €5 million to support two local communities in the Caragh and Kerry Blackwater areas to help restore populations of freshwater pearl mussel. The project is co-funded by the European Union, Department of Arts, Heritage and the Gaeltacht, Department of Agriculture Food and the Marine, Coillte, Teagasc, and the South Kerry Development Partnership.
Ireland is regarded as a stronghold within Europe for the freshwater pearl mussel. The mussel is a key species in the ecology of many Irish rivers helping to keep their waters clean thereby producing wider benefits for other aquatic biodiversity such as fish stocks. This important ecological role makes it particularly vulnerable to changes in water quality and has therefore given it particular conservation value and specific protection under Europe's Habitats Directive. While occurring throughout Ireland, the Caragh and Blackwater catchments in South Kerry host the two largest populations with an estimated 45% of the national resource.
The project team was appointed in December 2014 and the project will run December 2019. The project offcie is based in the Glencar Community Centre in County Kerry. The project website www.kerrylife.ie is currently under construction.