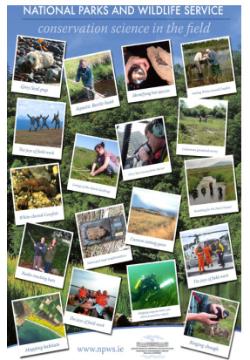 NPWS employs a range of staff throughout its organisation, in various locations across Ireland, including Conservation Rangers, Division Managers, Administration staff, Education Officers and Scientists. All play a vital role in monitoring, understanding and protecting the biodiversity of Ireland.
The Department's staff are generally recruited through the Public Appointments Service. Details about open recruitment can be obtained by contacting the Public Appointment Service at Chapter House, 26-30 Middle Abbey Street Upper, Dublin 1 or via their website at http://www.publicjobs.ie
Details of roles in NPWS may also be announced on the Department of Housing, Local Government and Heritage.
NPWS adhere to the Public Procurement Guidance as issued by the Department of Finance. Prospective contractors or consultants should familiarise themselves with the information available on the Irish Public Sector Procurement Portal and the e-Tenders Public Procurement Website.
For most contracts, invitations to tender will be placed on e-tenders (http://www.etenders.gov.ie/) and linked to the Official Journal of the European Union (http://www.ojeu.eu/) where relevant. NPWS recommends that experts register with http://www.etenders.gov.ie
Get information on Research Grants and Funding Opportunities available for biodiversity.